How do I initiate a return?
See "Help!"
Mail rma@getmntd.com and provide your name, email, order number, and a clear message stating you wish to return your hotspot. You may only do so if you are the original owner, you received the hotspot within the last 6 months, and it is either unopened or verified defective.
Why are hotspots blocked the moment the return procedure begins?
See "Onboarding"
We block a hotspot when we begin with the return proceedings as an additional level of security to the owner, as well as ourselves. We remove the block when the hotspot is received back at our warehouse. This prevents, for example, individuals with bad intentions from requesting a return and selling the hotspot trying to receive a refund as well.
Why is my hotspot blocked? / How do I unblock my hotspot?
See "Onboarding"
A hotspot can be unblocked via the original owner contacting rma@getmntd.com, providing the name, email, and order number from the order and a clear statement that the RMA (Return Merchandise Authorization) request is withdrawn.
If you are not the original owner, you'll need to have them reach out and do so on your behalf. We are unable to provide service through an intermediary.

What are the dimensions of the Goldspot and Blackspot miners?
Both miners measure 68.3 x 92 x 57 mm (2.68 x 3.62 x 2.24 inches).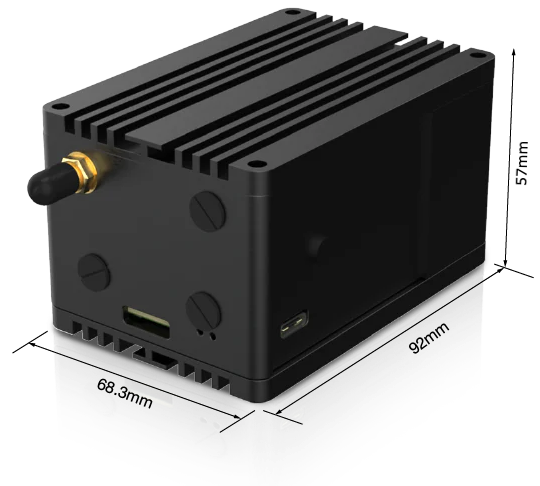 How do I know what firmware I'm on?
See "Hotspot"
Hotspots automatically fetch the latest internal hotspot core at least once every 24 hours, so if you've had power and internet for the last 24 hours, it is safe to assume your hotspot is up to date.
View the firmware on your SD cards like the IOS of your smartphone and the internal hotspot core updates like a mobile app update. When you update an app to the latest version, your phone will continue to show the same IOS. Similarly, when you view the firmware on your diagnostic, you'll see the firmware on the hotspot (Your iOS) but not the app version (Core releases).
Updated